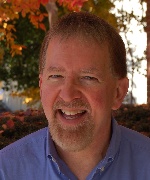 Dr. James Painter, Senior Pastor (Pastor Jimmy)
Pastor Jimmy has a passion for carefully unpacking the truths of Scripture. He has served at Cresthill Church for more than eighteen years. He and his wife, Margot, have two daughters and a spoiled-rotten dog named Clancy.
Ray Green, Connections Pastor
The Connections Minister oversees the integration and
spiritual growth strategy of Cresthill Church under the direction and leadership of the Senior Pastor. A genuine sense of belonging, involvement and spiritual growth for all guests and members is the goal of the Connections Minister attained through relationships and discipleship opportunities like weekly services, small groups (home groups, Bible studies, etc.), and volunteer teams.

Carla Hairston, Youth and Worship Pastor
Carla has a heart for leading young people to an initial and a deepening faith and hope in Jesus, through Bible study, social, and leadership activities. She also has a love for all music that centers around Jesus, and recognizes the significance of music's influence on every atmosphere. Carla leads worship at all of our services.
Gene Meacham, Outreach Pastor
Pastor Gene has a calling for Evangelism and Outreach. He loves people and

has a burning desire

to reach them for God. He has a passion for street ministry and taking the Gospel to where the people are. Gene also enjoys teaching how to communicate the message of Jesus to others. He and his wife Teresa have two grown children and three surviving grandchildren.
Tommy Rowe, Church Planting Pastor
Pastor Tommy is partnering with Cresthill Church to plant a new church that will be focused on people with special needs and those who are differently abled. The church is in the planning and building support stage and is scheduled to launch September 2018. He is married to Cheryl and they have raised two boys who are now all grown up
.
Robin Murphy, Office Administrator/Treasurer
Robin keeps Cresthill's office running and gets the bills paid. She serves as a Deaconess and Women's Fellowship Coordinator at her home church of Grace Bible Church, Seabrook, where she has been a member for almost 30 years. She enjoys the privilege of having both a "work church family" with Cresthill and a "home church family" with Grace. She and her husband, Joe, have four grown children and two grandsons.