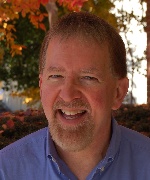 Dr. James Painter, Senior Pastor (Pastor Jimmy)
Pastor Jimmy has a passion for carefully unpacking the truths of Scripture. He has served at Cresthill Church for more than eighteen years. He and his wife, Margot, have two daughters and a spoiled-rotten dog named Clancy.
Tommy Rowe, Connections Pastor
Pastor Tommy has a passion to see people get connected to discipleship ministries of the church and to grow in their spiritual walk with the Lord. He sees growth as a balance between discipleship and service ministry (know and go). He wants to help you get connected in both ways.


Carla Hairston, Youth and Worship Pastor
Carla has a heart for leading young people to an initial and a deepening faith and hope in Jesus, through Bible study, social, and leadership activities. She also has a love for all music that centers around Jesus, and recognizes the significance of music's influence on every atmosphere. Carla leads worship at all of our services.
Gene Meacham, Outreach Pastor
Pastor Gene has a calling for Evangelism and Outreach. He loves people and
has a burning desire
to reach them for God. He has a passion for street ministry and taking the Gospel to where the people are. Gene also enjoys teaching how to communicate the message of Jesus to others. He and his wife Teresa have two grown children and three surviving grandchildren.
Robin Murphy, Office Administrator/Treasurer
Robin keeps Cresthill's office running and gets the bills paid. She serves as a Deaconess at her home church of Grace Bible Church, Seabrook, where she has been a member for over 30 years. She enjoys the privilege of having both a "work church family" with Cresthill and a "home church family" with Grace. She and her husband, Joe, have four grown children and three grandchildren.