We're going live every Tuesday evening at 7:30 p.m., for the next 8 weeks. Parents and children of all ages-you're invited to a brief time to gather to hear from God's Word. It may be a story, a devotional time, prayer time, etc. We'll mix it up. But what will be constant is that you can allow us to partner with you in continuing to share the truths of the Bible. Take 5 minutes out of your day to join in!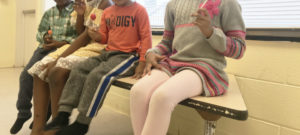 Note to Parents:
This is your resource page to find Sunday morning Bible studies that you can do with your children, and daily devotionals that you may use at anytime by clicking on the titles. This is one way we want to partner with you in continuing your child's spiritual growth. We pray that this helps you. Please direct questions or comments to children@cresthill.org
Pre-Schoolers Bible Materials
Elementary School Bible Lesson
Preteen Bible Study
Family Devotionals for Daily Use
Psalm 56:3 and Psalm 18:1-2 -This devotional focuses on God being our
fortress and strong tower.
Psalm 119:11 – A devotional outlining the Bible as our instructional book on how to live our lives.
Psalm 34:13 – A Family Time with God devotional focusing on how our words should be used for truth.
Philippians 2:14-15 – A devotional that highlights Jesus' words telling Christians that they are the light of the world.
1 Corinthians 15:55-57 – A devotional about the resurrection power of Jesus Christ.