Night to Shine Shine Thru – February 11, 2022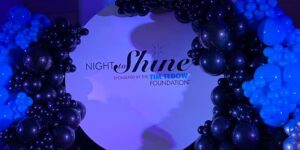 We are so excited to host Night to Shine 2022! Due to COVID-19 and the safety of our honored guests as a top priority, this year Night to Shine will be a Shine-Thru Parade and Virtual Celebration on Friday, February 11, 2022.
Night to Shine, sponsored by the Tim Tebow Foundation is an unforgettable prom night experience, centered on God's love, for people with special needs. We are blessed to be a part of this growing worldwide movement through the local church where thousands of people with special needs will be celebrated, given the royal treatment and reminded of God's love for them!
Cresthill's Night to Shine 2022 will be a two-part experience. First, from 3:00-5:00 pm there will be a Shine Thru Parade, followed by a Virtual Prom that will be available to view individually, or as part of a group on Zoom that evening.
Register as a guest
and be treated to a red carpet experience! We're taking photos, giving out gift bags, and more! Be sure to register! All registered guests will receive a link to the live event.
Volunteer to help.
We need volunteers to cheer for our guests, take pictures, crown our Kings and Queens, and hand out gift backpacks before they leave.
Please email nighttoshinecresthill@gmail.com with questions. We'd love to hear from you!