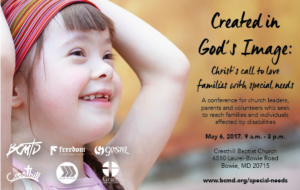 2017 Conference:
Created in God's Image: Christ's Call to Love Families with Special Needs
Click here to find out about the 2016 conference.
Event Summary:
But when you give a banquet, invite the poor, the crippled, the lame, the blind, and you will be blessed
(Luke 14:13-14).
People with disabilities remain culturally hidden and the least evangelized population in the United States. Did you know 62 million Americans have a disabling condition, yet less than 2% of American churches have any kind of disability outreach?
And yet, Jesus had much to say specifically about ministering to people with disabilities in the Gospels. Jesus is calling you to preach the good news to them. This conference aims to equip church leaders, parents and ministry volunteers to minister to families and individuals affected by disabilities.
Event Schedule:
9:00am-9:20am Worship, led by Danny Hinton
9:30am-10:00am Keynote Speaker #1
10:15am-11:15am Breakout Session #1
11:30am-12:00pm Lunch
12:00pm-12:30pm Keynote Speaker #2
12:45pm-1:45pm Breakout Session #2
2:00pm-3:00pm Panel Q & A
Featured Presenters:
Amberle Brown, World Relief

From the age of seven, Amberle felt called to be a missionary to an unreached people group. However, at the age of 21,a rare disease left her eyes legally blind and her hopes seemingly dashed. In a beautiful story of redemption, God called Amberle to be a missionary to the largest unreached people group in the world – people with disabilities. Amberle works full-time with World Relief, an organization committed to empowering the Church to serve the most vulnerable around the world – and also serves with the BCMD as they strive to promote disability-inclusion in the Church.

Hunter Brown, Freedom Church, Baltimore, MD

Hunter Brown is a former NAMB church planting intern and now pursues ministry in Baltimore bi-vocationaly as he works as the head golf coach at Goucher College. He is also a part-time graduate student at St. Mary's Ecumenical Institute of Theology and has become passionate about the Church and disability through his own experience with his wife, Amberle, and extensive theological reflection on the subject as a part of his studies.

Lainie Browning, Special Blessings Ministry, First Baptist Church, Whitehouse, TX

Lainie Browning is a stay-at-home mom of two boys, Nicholas, 11, and Trent, 17, who has Down Syndrome, autism and is non-verbal. He is the inspiration behind her true passion of meeting the needs of special needs families in our community. She started the Special Blessings Ministry at First Baptist Church, Whitehouse, Texas, hoping to make the church a special needs friendly church. Shortly after starting up Special Blessings, Lainie also started an Adult Day-Hab Program, Life Blessings.

Michael Crawford, State Director of Missions, Baptist Convention of Maryland/Delaware

Michael Crawford is the State Director of Missions for the Baptist Convention of Maryland Delaware. He is also a pastor at Freedom Church in Baltimore, Md., which he planted in 2010. He is passionate about inspiring, equipping and funding churches so they can serve individuals and families with disabilities.

Larry and Susan Davis, Grace Church, Seaford, DE

Larry is an Eastern Shore native (Sharptown) and has been married for 24 years to his high school sweetheart Susan. They have 2 children: Britney and Seth. Larry worked as an Engineer for 10 years before he committed to full-time ministry in 2003. Larry has a Bachelor of Arts in Religion from Luther Rice University and a MA in Ethical Leadership from Claremont Lincoln University. He loves investing in other leaders and believes that God has placed dreams in the deep wells of all of our souls. Great leaders draw out those dreams with compassion, wisdom and understanding.

Dr. Ray Davis, D.Min., Senior Pastor, First Baptist Church, Whitehouse, TX

Dr. Ray Davis (DMin) is senior pastor at First Baptist Church, Whitehouse, Texas. Dr. Davis has served Texas churches for over 30 years. He and his wife, Becky, have two sons and one "perfect" grandson, Sam. One of his favorite ministries is the Special Blessings Ministry at FBC Whitehouse. Ray believes that the church should be that "Banquet" where all of us who are special are not only welcomed and included, but celebrated. If Jesus visited First Whitehouse, says Pastor Ray, He would go straight to our Special Blessings ministry and enjoy them.

Danny Hinton, Pastor of Preaching and Vision, Gospel Community Church, Owensboro, KY

Before becoming a Christian, the planting pastor of Gospel Community Church spent 23 years as a certified interpreter for the Deaf for the local schools system of Daviess County, Kentucky. Working in both grade schools and college, it was during his career that the Holy Spirit began to soften his heart to the acceptance of the Gospel and Danny was saved by grace. As a member of the local Deaf Community, Danny's heart now is to reach his community with the Gospel message of Jesus Christ. Gospel Community Church is a driven church that seeks to reach lost people in both the hearing and Deaf communities.

Dr. Jimmy Painter, Senior Pastor, Cresthill Baptist Church, Bowie, MD

Pastor Jimmy has a passion for carefully unpacking the truths of Scripture. He has served at Cresthill Church for more than eighteen years. He and his wife, Margot, have two daughters.

Tom Stolle, Chief Financial Officer/Chief Operating Officer, Baptist Convention of Maryland/Delaware

Tom has served the Baptist Convention of Maryland/Delaware for 12 years directing, supervising and coordinating the finance, accounting, and budgeting operations and serving the staff as Human Resource Director. He additionally spearheads BCM/D's special needs ministries. His youngest son, Jimmy, is a child with autism, who has sparked a passion in Tom to assist our churches in the area of effective special needs ministry. He also enjoys participating in events that raise awareness for special needs causes, such as walks for autism.
Featured Breakout Sessions:
What Do Parents of a Child Affected by Disabilities Need? How can the Church Help? (led by Rev. Tom Stolle): Tom shares particular ways churches can minister to the needs of families and children affected by disabilities.
Special Needs Ministry 101 (Led by Lainie Browning):

Tips & tools on developing and expanding a Special Needs ministry within your church.

The Theology of Disability, (Led by Rev. Michael Crawford, with Hunter Brown):

This breakout will seek to give the attendee a theological overview of disability from Scripture. We will look at what the Old and New Testaments reveal about God's provision, legislation and heart for those with disabilities. Our goal will be to provide a biblical framework for understanding disability and to highlight some of the key passages on disability that have been neglected.

How to Recruit and Train Volunteers, (Led by TBA)
Pastoral Perspectives on Special Needs Ministry, (Led by Dr. Ray Davis): What pastors need to know about the challenges, issues, and benefits of starting a special needs ministry.
Featured Panelists (moderator by Tom Stolle):
Rev. Danny Hinton, Pastor of Preaching and Vision, Gospel Community Church, Owensboro, Ky.

Dr. Ray Davis, Pastor, Whitehouse Baptist Church, Whitehouse, Texas

Lainie Browning, Founder, Special Blessings Ministry, Whitehouse Baptist Church, Whitehouse, Texas

Dr. Jimmy Painter, Senior Pastor, Cresthill Baptist Church, Bowie, Md.

Larry and Susan Davis, Grace Church, Seaford, Del.
Cost: $25 per person. If a group of five or more are attending from the same church, family, or organization, the cost will be discounted to $20 per person.
REGISTER HERE: http://bcmd.org/special-needs
For more information, contact:
Tom Stolle,
800.466.5290, ext. 207